Bible Study
Please email or call the This email address is being protected from spambots. You need JavaScript enabled to view it. for contact information of facilitators. Unless otherwise noted, groups meet at Messiah's Hazel Dell campus. Most small groups take a summer break.
Meeting Weekly
Bible Study/Breakfast with Pastor Peter
Facilitator: This email address is being protected from spambots. You need JavaScript enabled to view it.
Participants: Adults
Day & Time: Tuesdays, 6:00-7:05a
The Tuesday Morning Small Group meets at 6:00a at Panera Bread Co. on Highway 99 in Hazel Dell. Facilitated by Pr. Peter, each session begins with prayer and the study ends when the first group member has to leave for work, usually around 7:05a.
The group alternates between reading a book of the Bible over several weeks and reading interesting contemporary works by Christian authors. Previous guided readings have included A Year of Biblical Womanhood (© 2012) by Rachel Held Evans, The Phoenix Affirmations (© 2006) by Eric Elnes, A New Kind of Christianity (© 2011) by Brian McLaren, Names for the Messiah (© 2016) by Walter Breuggemann, The Great Emergence (© 2012) by Phyllis Tickle, The Jesus I Never Knew (© 1994) by Philip Yancey, ( Pastrix (© 2013) by Nadia Bolz-Weber, Searching for Sunday (© 2015) by Rachel Held Evans, Awaiting the Already by Magrey R. deVega, A World Awaits, selected readings by C.S. Lewis, An Unhurried Life: Following Jesus' Rhythms of Work and Rest (© 2013) by Alan Fadling, God is in the Manger (© 2010) collected letters and writings by Dietrich Bonheoffer, Sabbath as Resistance (© 2014) by Walter Brueggemann, Jesus, The Final Days (© 2009) by Craig Evans and N.T. Wright, The Prodigal God (© 2011) by Tim Keller, Take this Bread (© 2008) by Sara Miles, The Vanishing Neighbor by Marc Dunkelman (© 2014), Seeing Gray in a World of Black and White (© 2012) by Adam Hamilton. For more information or to find out what the group is currently studying, contact This email address is being protected from spambots. You need JavaScript enabled to view it. (574-7081). There is always an open seat at the table for newcomers and guests. Everyone is welcome.
Adult Bible Study Class
Facilitator: This email address is being protected from spambots. You need JavaScript enabled to view it. and Messiah's Pastoral Intern
Participants: Adults
Day & Time: Wednesdays at 10:00-11:30a and 6:35-7:30p
Fall 2019
No Worries Adult Bible Study: A Survey of the Gospel of Matthew
9-sessions starting Sept. 18
These are anxious times—read any news feed or watch any news broadcast. What might we take from the Gospel where Jesus says five times, "Do not worry?" Pr. Peter and Intern Pastor will lead a survey of Matthew's best material, including Jesus' injunctions not to worry. Email (This email address is being protected from spambots. You need JavaScript enabled to view it.) or leave a voicemail (360-574-7081) with Administrative Assistant Sally Dost to register.
Meeting Monthly
Martha Circle
Contact: This email address is being protected from spambots. You need JavaScript enabled to view it., Administrative Assistant
Participants: Women
Day & Time: 2nd Thursday of each month
Time: 10:00a
Location: Hazel Dell campus fellowship hall
Study Resource: Gather, by Women of the Lutheran Church in America
Are you at loose ends on Thursday mornings? Martha Circle women's Bible study meets at 10:00 on the second Thursday morning of the month in the fellowship hall. Gather, a magazine published by Women of the ELCA is used for the study. Great treats and fellowship are included along with local benevolence projects and a Christmas brunch. Contact Sandy Grafton for more information.
Messiah Breakfast Club and Ladies Night Out
Facilitator: This email address is being protected from spambots. You need JavaScript enabled to view it.
Participants: Women
Day & Time: Once-a-month breakfast group meeting the last Friday of every month at 9:00a with Ladies Night Out happening quarterly.
Location: Off site
Liz is leading a once-a-month group for moms that meets for breakfast at a variety of eateries in Vancouver. The group also plans regular Ladies Night Out events and retreats.
Adult Couples Group
Days: 3rd Thursdays of each month
Time: 7:00p
Location: Homes of group members
Contact: This email address is being protected from spambots. You need JavaScript enabled to view it. or This email address is being protected from spambots. You need JavaScript enabled to view it.
Study Resource: Don't Sing Songs to a Heavy Heart: How to Relate to Those Who Are Suffering
Brewed Theology (formerly known as Theology on Tap)
God. Conversation. Beer.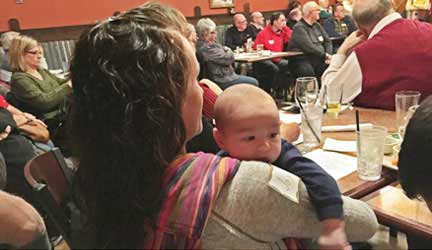 at Mill Creek Pub in Battle GroundFacilitators: This email address is being protected from spambots. You need JavaScript enabled to view it.
Participants: Adults
Days: usually the fourth Tuesday or third Thursday of the month (on break July and August)
Time: 7:00-8:30p
Location: Local craft breweries and pubs in North Portland and Clark County
Purposes:
to engage in relaxed and guided conversation about interesting and often profound theological topics;
to enjoy some of the finest craft beers anywhere;
and to do it with some of the best people around.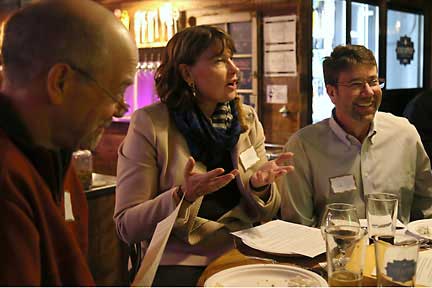 at Untapped Pub, PortlandBrewed Theology meets at local craft breweries and pubs in North Portland or Clark County. The meeting days are typically the fourth Tuesday or Thursday of the month. The location, dates, and topic are disclosed in a monthly email from Pr. Peter and our pastoral intern. They also provide the Preparatory Homework in the form of readings and/or videos accessed on the internet. If you are not already on the distribution list, contact This email address is being protected from spambots. You need JavaScript enabled to view it. and he will add your email to the list.

Previous topics have included:
Democracy and Civility: Can the first exist without the other?
Truth. Fake News. Gospel
I'm Sorry: Good, Bad, and Misguided Forms of Apology
Talking about Death as a Faithful Act of Living
Take and Give: The Paradox of Generosity
How to Have Difficult Conversations
Videos. Violence. Victims. Examining how screen time impacts behavior in the young and old.
Mission Critical: Right. Wrong. Reimagined
Trivia on Tap
What's Next? Respawning. Resuscitation. Reabsorption. Reincarnation. Resurrection.
Lent: Discipleship, Discipline, of just a Drag
Is it "A Mad, Mad, World" or the Nex Great?
Sola Scriptura
In the Image
Theories and Theology: Faithful, Informed, & Christian
What's so Amazing about Grace
Is 'white' a color?: races in our spaces
The Meaning of Money
Déjà vu all over again (only faster): from Gutenberg to Google – the challenge of being a flesh and blood church in a digital world.
Close Encounter of the Divine Kind: Angels, Messengers, Messages, and You
God of Heaven and Mirth: God, The Bible, and Holy Humor
Dying Well
God and Sports: Silly or Serious?
Ready ... Set ... Stop? The War on Rest, and the Need for Sabbath
Affluenza: Where can I find the vaccine?
Incoming Call: ... God? Call, Vocation, Purpose ... and other ways to think about what the heck you are doing here, and why what you do counts
Space, Aliens, & Jesus Christ: Wanna? Be an Astro Theologian?
The Gifts of Imperfection
Losing My Religion
Building a Civilized Workplace and Surviving One that Isn't
A Christian Response to Panhandlers
Christian Faith and Mental Illness
Angels and Demons
What Happens When You Die?— Reincarnation, Resuscitation, Re-absorption, Replenishment... or Resurrection?
If God is so close, why is God so hard to find?
Money, Culture, and You
Death and Dying: The Ethics and Challenges of End-of-Life Decisions
Forgiveness—What is it exactly... or not so exactly?
Spiritual, but not Religious—Stop Boring Me
Pubs and breweries visited:

Flyboy Brewing
Feral Public House - Heathen Brewing
Uptown Barrel Room
Ghost Runners Brewery and Taproom
Untapped Pub
Heathen Brewing Night in the Big Backyard of the Intern House
Loowit Brewing Co.
Dirty Hands Brewing Co.
Mill Creek Pub
Total Wine and More nights in the homes of Ted & Julie Johnson and Intern Joe
Lucky Labrador Brewing
Laurelwood Brewery
MacTarnahan's Taproom at the Portland Brewing Co.
Amnesia Brewing
Hopworks Urban Brewery
Rail Side Brewing
The Brickhouse
Grapes and Growlers