Articles
Messiah Preschool offers these 3 and 4-day options for 4 and 5-year-old pre-kindergarten students: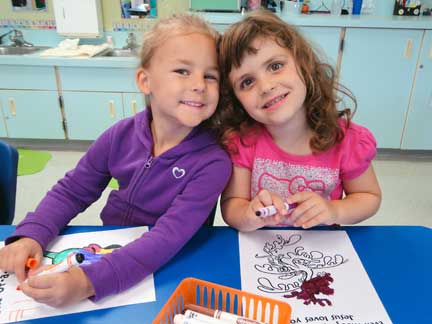 Monday-Wednesday 8:45-11:30a.m.
Monday-Wednesday 12:30-3:15p.m.
Monday-Thursday 8:45-11:30a.m.
Monday-Thursday 12:30-3:15p.m.
KariLynn Bogart, 3-day class Teacher
Tina Van Buskirk, 4-day class Teacher
Thematic curriculum builds on the lessons of the Beginner program. The class is also excellent for students starting school for the first time.
Uppercase and lowercase letter recognition, sounds, numbers and counting, colors and shapes.
Name recognition and writing skills continue throughout the year. Numbers and counting leading to simple math concepts are practiced in both group and center time.
Fine motor development activities including cutting, coloring, early writing, and some math skills. Zaner-Bloser penmanship is practiced throughout the class.
Socialization skills development to learn how to interact with others, use words to communicate feelings, be kind and considerate, and be comfortable speaking to others in a small group setting.
Creative opportunities through exploratory center play and art.
Field Trips and cooking are also a part of the class experience.
Class ratio is 2 adults and 14 children per classroom.
Request more information
Take a virtual tour of Messiah Preschool
Testimonials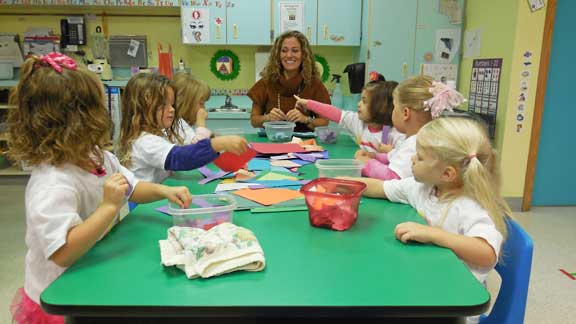 Details
Age: Student must be 4 years of age by August 31
Payments due on the first of each month September through May
Offered classes subject to adequate enrollment
Multi-student family tuition discount
Tuition fees cover all administrative and supply costs. There are very few additional costs during the school year (i.e. optional fall class photos & book clubs).