Here for Good.
The following is Pastor Peter and Kathy's annual review of the congregation's ministry for '13-'14. It was prepared for the June Meeting of the Congregation and highlights the mission and ministry at Messiah.
"And remember, I am with you always, to the end of the age."
– Jesus (Mt.28:20b)
Whenever God's people embark on a journey, we commit ourselves to God's providence and nurture. Along the way, we certainly seek to employ the best wisdom we have, and try not to be foolish in our decision-making. But from the beginning we know that we cannot see or know the ending. We move forward—at times boldly and at times hesitantly—as have our forebearers in faith, trusting in the Lord.
Our sense is that the past year was marked not so much by milestone accomplishments (e.g., capital campaigns, building construction, a second campus opening, or pastoral internship program kick-off), as it was by steady and subtler steps into the future... all the while trusting in the Lord.
What follows in our report testifies to the fact that the living Lord, Jesus the Christ, continues to fulfill his promise to lead the way and accompany us as we do our best to follow in his path.
"all. ready. rich." annual stewardship
2014 was another very good year of financial support and response at Messiah. Thirty-one (31) households pledged for the first time. A total of 180 households (nearly 60% of all of Messiah's households) returned an annual pledge. This return percentage was up 4% from last year. Of these 180 households, 39 made their pledge via Messiah's website and 22 set-up recurring electronic fund transfers (EFT's) online. The finance committee forecasts a 6.7% growth in church income in the next fiscal year (July 1, 2014-June 30, 2015).

As Christian stewards, we know that money is simply one's stored-up service in an easily exchangeable form. The critical "input" of yourselves as reflected in the money you provide to Messiah has a direct bearing on the desired "outputs" of proclamation, pastoral care, and mission. Your generosity is the engine that keeps this congregation—and the good that it is doing—moving forward. Messiah's strong financial position is an important reason why we are such a healthy congregation. Thank you.

Our thanks also to Travis & Phyllis Cavens, John Cimral & Laura Schwerin, Mark & Della Hundley, and Joe Natwick for sharing their stewardship stories and for providing key leadership in this year's "all. ready. rich." stewardship campaign.

Messiah's North County Campus (NCC)
This marked the fourth year of Messiah's North County campus and its second year of meeting at the Tri-Mountain Golf Course. It was mostly a quiet year of becoming comfortable within the space and living into our identity as "the church that meets at the golf course"—or as some prefer to say, "The only church in Clark County with its own golf course." The visibility of Messiah's north campus is unmistakable at the golf course and it feels as though we hit a tipping point this spring with regard to guests. Nearly every Sunday there are new faces present for worship. Please read the North County Campus report at the bottom of this document for more details about the NCC ministry.
Pastoral Internship Program
Building on Messiah's six years of hosting college-age summer interns and one year of serving as an internship site for Luther Seminary, the congregation welcomed pastoral intern Joe Natwick in September 2013.

Kathy and I have so enjoyed watching Joe discover, develop, and share his gifts for pastoral ministry. He's brought insightful observations and excellent questions to us and to the Church Leadership Team (CLT). He is a remarkably gifted preacher. As we write, he still has three months left at Messiah, but there is seldom a day when we do not hear someone lament that he will be leaving. We will certainly miss Joe.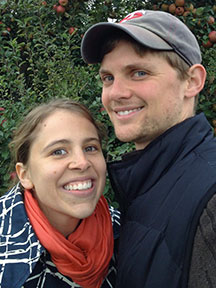 At the same time, we look forward to Ben and Kristen Eisele, a clergy couple arriving in September. They will both serve as full-time pastoral interns at Messiah in '14-'15. We are grateful for the seminary's confidence in this congregation's capacity to nurture and train two interns at the same time and for the CLT's willingness to take on the added financial commitment. It will be great times two.

We thank those who provided monthly support and assistance to Joe as members of his internship committee. This group is responsible for providing valuable feedback and helping him process his intern experience. They are: Leon & Judy Burch, Michael & Van Dawkins, Larry & Nancy Johnson, John & Beth Moritz, Doug & Lisa (chairwoman) Ruecker, and Garet & Joy Studer.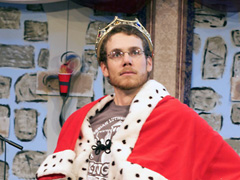 Update on Messiah's former Pastoral Intern

Messiah's '12-'13 pastoral intern, Andrew Suhr, graduated with his Masters of Divinity degree from Luther Seminary in May and was certified for ordination. He was assigned to the Greater Milwaukee (WI) Synod for first call.

Update on Messiah's Summer Interns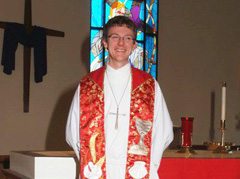 Here is what we know of Messiah's nine former summer interns (earliest to most recent).
Seth Novak is an Associate Pastor at Shepherd of the Hills Lutheran Church (ELCA) in Benson, MN. His wife Stephanie is also an ELCA pastor.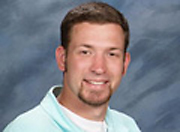 Kyle Witek is an associate pastor of youth ministry in a non-denomination church in Neenah, Wisconsin.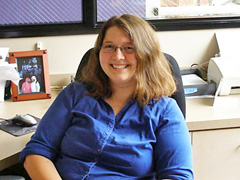 Rachel Line serves as the Office Administrator for First Lutheran Church of San Diego and is the secretary of the Pacifica Synod (ELCA).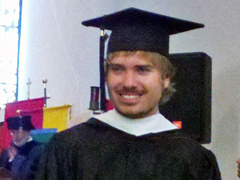 Paul Kaczynski received a Masters of Arts degree in theology from the Graduate Theological Union (GTU) in Berkeley this May and is working as a director of music at a nearby Lutheran Church.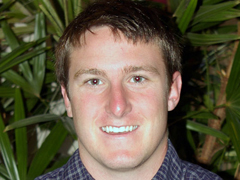 Jayson Nicholson is a second-year seminary student at Pacific Lutheran Theological Seminary (PLTS) in Berkeley and will be completing his Clinical Pastoral Education (CPE) requirement this summer at Stanford Medical Center.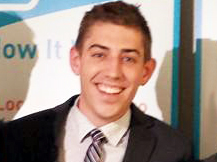 Ben Hogue completed a 36-month stint as a Peace Corp worker in the Ukraine and has been living in Denver this past year. Ben will be a first-year M.Div. student at PLTS beginning this fall.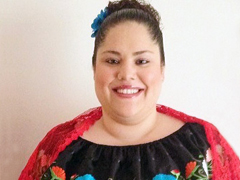 Rachael Manzo is a public school teacher in Los Angeles.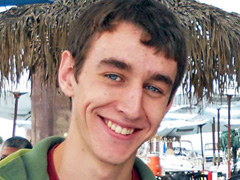 Kevin Beebe
is currently teaching children at a Lutheran school in the West Bank through the ELCA's
Young Adults in Global Mission
program. He will begin his studies to become an ELCA pastor at PLTS this fall.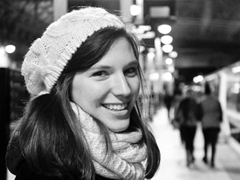 After serving a year in Manchester, England, in the ELCA's Young Adults in Global Mission program, Caitlyn Melillo returned to the states and is serving as a children and youth ministries director in two ELCA congregations in Los Angeles.

Many things Digital
Website• Facebook• Twitter• Weekly Digital Newsletter
This year we rolled out Messiah's new website, Facebook page, and Twitter account. While we are no experts in creating captivating posts and pithy tweets, we are committed to improving the ways in which we connect with people online. We know that before anyone walks through Messiah's doors or meets any of us in person, she or he has constructed a story, developed a picture, and formed a preliminary relationship and/or opinion of the congregation based on what we share (or don't) online. We certainly want to be a congregation that engages people in the digital world where they increasingly spend much of their time. Not being present there would be kind of like saying, "Hey eight hundred million people in Facebook Land, we're not really interested in you!" That's certainly not the message or story any growing congregation intends to tell and certainly not the one we want to convey at Messiah Lutheran Church and Preschool.
It's been extraordinarily helpful that Intern Joe is a digital native, has an excellent sense of the congregation's story and culture, and has generously served as an encourager and coach to the rest of us. The marketing team also endorsed this effort, experimenting with new and innovative ways to draw people to Messiah and its mission. Some of Messiah's posts this year made over 20,000 impressions among Clark County Facebook users who self-identify as Christian.
Public WiFi • Online Giving
It may not seem that remarkable, but we also rolled out a robust and free public WiFi network this year at the Hazel Dell campus. This investment was first about hospitality as WiFi access is increasingly interpreted as a form of hospitality. The new network will also serve as the backbone for a myriad of new ways members and friends will be able to make offerings, register for classes, pay fees and tuition, buy books, complete sermon notes, fill out forms, teach classes using resources on the internet in real time, communicate with the staff, etc. Bring in your device and we will get you connected.
Let me hear an "Amen" for Messiah Lutheran Preschool Chapel
If you read the "Fun Facts" section of Messiah's digital newsletter, you may have noticed a remarkable statistic about Messiah Preschool chapel. Weekly attendance has averaged 150 worshipers this year. This reflects the improving integration of the preschool ministry with the rest of Messiah's ministries.

Kudos to our newest staff member
Alyson Schumacher joined Messiah's staff as the Director of Children's and Family Ministries 12 months ago. Alyson has certainly demonstrated that she knows how to connect with people and run a program. As an MSW she put her formidable skills to work to start a weekly Moms group, direct a Christmas program that she then took on the road to the North Campus, offered movie nights at church for families with young children, and planned our upcoming VBS and made registration available online. She did all of this while maintaining Messiah's Sunday School and Wednesday FL!P programming. We thank God for bringing the Schumacher family to Messiah and already grieve that they will be moving next summer.
Thank you
This year marked our twentieth as your pastors. We have been so privileged to serve over this entire time and so overwhelmed by your "12 months of thanks for 20 years of service" this year. Thank you for guiding and supporting us through the years, for helping us to grow as pastors, for forgiving our mistakes and missteps, and for always thinking forward to the next thing God has in mind for Messiah.

We owe thanks always to those who have served in leadership over the years and to our devoted and talented staff. It is a privilege to serve alongside them.

We especially thank retiring CLT members Hope Quinn and George Webber for their leadership. Hope and George each served six-years on the CLT and did so with faithfulness and distinction. Each of them served terms as President of the Congregation. George also served as chairman of one of Messiah's capital campaigns and Hope has been a constant advocate and always-present participant at Messiah's North County campus since its opening day four years ago.

Yours in Christ, Prs. Peter & Kathleen Braafladt
North County Campus Report
by Prs. Peter & Kathleen Braafladt

This marked the fourth year of Messiah's North County campus and its second year of meeting at the Tri-Mountain Golf Course. It was mostly a quiet year of becoming comfortable within the space and living into our identity as "the church that meets at the golf course"—or as some like to say, "The only church in Clark County with its own golf course."

The visibility of the north campus is unmistakable. Hundreds of people drive by our signs, walk by our space, and hear us singing in the banquet room each week. If nothing else, we are well known among the golfing community of Clark County.

This year Messiah's marketing team continued to use a variety of ways to make our presence known among people living in North County. They worked diligently and consistently at creating all-important "impressions" through newspaper advertising, saturation postcard mailings, and internet postings that benefitted both campuses. This spring it feels as though we hit a tipping point at NCC. Hardly a Sunday goes by where there isn't a new person present for worship. The recent Newcomers' Orientation class included several individuals who have come to Messiah through the North County campus.

As we went into the summer last year, NCC-ers engaged in a three-weekend re-visioning process to explore where God might be pushing us to take next steps. Two practical initiatives quickly emerged. First was increasing Messiah's visibility at the golf course and resulted in two very large, very prominent, and permanently mounted signs going up at the southeast and northeast corners of the golf course property. The second was to propose an all-congregation fall picnic as a way to have fun and nurture friendships between members from both campuses.

We hoped the process might also bring forward a big-hairy-audacious-idea that could drive the future of NCC for five or ten years. One did emerge: to plant an extension of Messiah Lutheran Preschool in North County that would eventually serve as a place of worship on the weekends and meeting space in the evenings.

The challenge of a big-hairy-audacious-idea is just that: it's BIG. This fall Kathy and Intern Joe made visits with our preschool families that drive in from Ridgefield, talked to educators and community leaders in North County, and consulted with wise business people and entrepreneurs from our congregation. Kathy and Joe sought their input and reaction to the idea of making Messiah Preschool a two-campus ministry with the hope of some day buying property and building a preschool facility that would also (but secondarily) serve as a meeting place for our congregation. Initial reactions suggest that idea has some merit and might be a way for Messiah to put down permanent roots in North County.

Of course this would be a huge undertaking for the congregation, requiring an enormous amount of research and planning by a large group of highly motivated people from both campuses. It would also require a high level of buy-in and acceptance from the entire congregation. These are next on the list of important questions that we will need to line-up in strategic order and that all of us at Messiah will have to assess.

In the meantime, people keep attending NCC where the Gospel continues to be preached and the Sacraments shared. Four years after NCC's opening, it is Kathy's and my assessment that Messiah is a stronger congregation for having planted the campus and extended its ministries. What all God may accomplish through this venture as we move into the future, we all shall see.