"Observe the Sabbath Day and keep it holy, as the LORD your God commanded you."
Deut. 5:12 |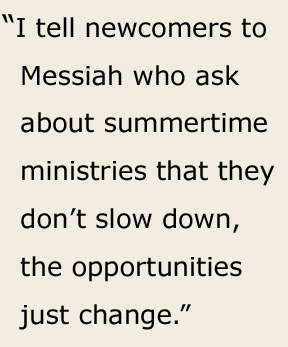 Does the word "summertime" produce different feelings and expectations in you than it used to? It does for me. I used to look forward to June, July, and August with an expectation that things would slow down, both personally and professionally. Now it seems different.
For one thing, it seems like summer has become shorter. What I used to recall as being three months, now feels like two months ...plus maybe a week or two. But this is only part of my new reality. While the length seems shorter, the list of obligations seems longer. Not long ago Kathy and I were chasing our boys to baseball tournaments, soccer matches, and golf courses across the county and the state—all in the name of "positive parent involvement." Now it's helping our youngest move to college to internship and back to college. There's always more to do.
As the world has become a global village and farming more mechanized, the agrarian cycle from which the summer school break was derived is going away. Maybe it's time to lean into a cycle of everything being year-round. We have become a 24-7-365 world and certainly the ministry of Christ's church has always been a four-season enterprise.
I tell newcomers to Messiah who ask about summertime ministries that they don't slow down, the opportunities just change. This summer is no exception. It's packed with a long list of events and ministry opportunities.
VBS planning is in full swing and members of The Backsliders (Messiah's softball team) are already swinging their bats in the Vancouver City League. Confirmation Camp is not far off, as is the annual 6-day backpacking trip into the Wallowa Mountains. The Leaping Lutherans, Messiah's Hood to Coast running team, are busy getting into condition for their long trek. Kathy's monthly book club decided to meet in June. Messiah's families with young children will be meeting every-other-Friday in the park and Family Movie Nights are back on the docket. The
Where Moms Connect
group will meet weekly at church. The remodel and refurnishing of rooms in the main building at the HD campus will continue as we prepare to expand Messiah preschool next fall. Science Enrichment summer classes have been added to our preschool calendar. The intern committee will be busy filing forms and writing reviews as Intern Joe completes his year of internship. Two new internship committees will be formed in advance of the arrival of Ben and Kristen, next year's pastoral interns. The Church Leadership Team (CLT) will do team building and planning as new members take their place at the table and newly elected officers assume new responsibilities. And, of course there will be planning for fall start-up. A lot of things will be going on even though it's summertime.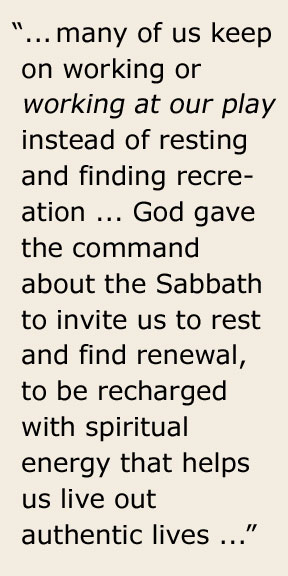 In the midst of all this, Kathy and I will take few days of vacation after David Teeter returns from his sabbatical leave. It will be time to sleep in, read the paper, make a trip or two without the overlay of schedules or organized games, and otherwise do nothing but rest. God created us for both work and rest. The point of the commandment to rest on the Sabbath day was not only to encourage God's people to attend worship, but an order to rest. No work was to be done. God knew that we wouldn't choose to rest on our own and so God commanded it.
Most of us, however, trade our rest time for either more work or for the pursuit of amusement. Gordon MacDonald makes an interesting point in his book
Ordering Your Private World
where he contrasts amusement and recreation. He says amusement is an activity that keeps one busy at frivolous pursuits as opposed to activities that nurture. Recreation comes from the word "creation." When we engage in recreation we participate in activities that nurture us spiritually, says MacDonald. The question becomes, "Do we use our days of rest for amusement or for recreation?" MacDonald argues that many of us keep on working or
working at our play
instead of resting and finding recreation. He reminds us that God gave the command about the Sabbath to invite us to rest and find renewal, to be recharged with spiritual energy that helps us live out authentic lives and puts us on course to fulfill our God-given calling to serve others.
God clearly wants us to rest our bodies and at the same time rest our hearts by engaging in every-week, once-every-seven-days worship. The Sabbath is meant for both. I encourage you to carve out days of recreation, renewal, and rest this summer and throughout the year. Rest your bodies and rest your hearts by always attending worship and receiving God's never-changing Word for you! Having done so, you will most certainly be ready for re-creation.