I am confident of this, that the one who began a good work among you will bring it to completion by the day of Jesus Christ.
(Phil.1.6)
It is a rare thing when someone interrupts the service at church. But it happened the third weekend in January. We were introducing Messiah's 2015 stewardship theme
here for good
. "I really like that tag line!" she blurted out. "Cool," I thought!
here for good
so fittingly captures what is the ethos and passion of this congregation. At so many levels it expresses who and what we are as a community of faith. We are
here for good
. The blurting-out-worshiper understood this.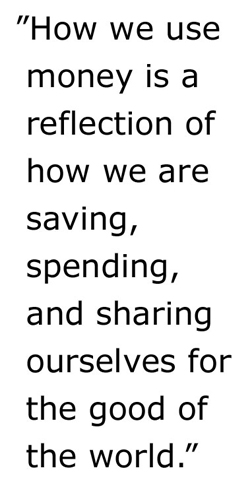 As I write, members of Messiah are receiving their 2015 financial stewardship packet in the mail. Messiah's ministries are strong and expanding because a growing number of us recognize that we are
here for good
—here for good to engage in opportunities to give our gifts for the
good
of others in Jesus' name. The Apostle Paul exhorts us to "work for the good of all, and especially for those of the family of
 faith." (Gal.6.10) As we return our financial offering to God we are essentially saying "here God, use this
for good.
" One has only to follow the money to witness how God has a habit of taking our gifts and multiplying them into
good
that far exceeds the sum of their individual parts.
Still, it may seem a little odd to invite people to make a plan for their financial giving so soon after Christmas. But we are no ordinary assembly of people. We are Jesus' people within whom God's Word richly dwells. As the living Word burrows deeper and deeper into our hearts, God calls us to live out the Gospel, propels us to give ourselves away, and makes us ready to let go of the stuff to which we so tightly cling. God's Word assures us that God's good purposes will certainly flow as the outcome of our generosity.
If you really want insight into people, watch what they do with their money. Jesus put it another way. He said, "For where your treasure is, there your heart will be also." (Lk.12.34) How we save, spend, and share money speaks volumes about how things are going with us and where our hearts really are. Think of money as our stored-up labor in an easily exchangeable form (currency) that we put to use to serve our neighbors. How we use money is a reflection of how we are saving, spending, and sharing ourselves for the
good
of the world. Money cannot buy you love, but how you use money speaks volumes about who you are.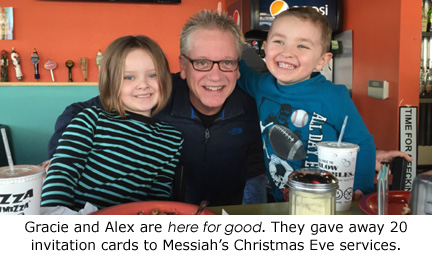 One discipline we use to keep ourselves on track with God and growing in our generosity is to make the money we return to the Lord the first thing in our budgets, to put it top-of-mind and at the top of the ledger sheet. The annual stewardship materials we distribute at Messiah are tools to assist in making this happen.
We really are all
here for good
. But tools or no tools, there are moments when I am personally challenged to live it out. It happens every time I covet my neighbor's bigger and/or multiple homes, better cars, and frequent travels and conclude that God would certainly understand my holding back in my generosity until I've caught up with the other guy. Truth be told, there is a dark sense of entitlement in all of us.
The interesting thing is that if we wait to share of our substance until we feel like we are rich or even comfortably wealthy, we will never be fully
here for good
because the focus is on what we lack rather than what we already have. The fear of scarcity comes from the old sinner in us. It is an unspiritual and poor way of thinking and behaving. Our God is the God of abundant promise and provision.
Because God is the one who always provides, I always encourage people to consider growing the proportion of their household income that they return in their offerings. Getting to the biblical benchmark of the tithe (10%) is excellent. As those who have reached this level of giving, Kathy and I would tell you that we have experienced an abundance of
good
far beyond what we could have ever imagined. Yes, on the face of it, our balance sheet looks like we are less rich, but we are certain that we are happier, healthier, and freer than if we would have kept it all.
How much of your money can you return to God as you recognize that you are
here for good
? It is more than you think. It might even strike you as amazing because those in whom Christ dwells have already received the greatest
good
of all. The Apostle Paul wrote:
... it is no longer I who live, but it is Christ who lives in me. And the life I now live in the flesh I live by faith in the Son of God, who loved me and gave himself for me.
(Gal.3.20)
As we learn to live with Christ at the center our lives, we are capable of extending ourselves in amazing ways. We are not frightened by the future. We are not held captive to having to possess more stuff or planning more adventures to fill our time. We are
here for good
by the amazing grace of our God who left heaven to become one of us and to give everything he had, including his life for our salvation, for our
good
. Ours is the God who knows that we will discover real life and absolute
good
as we learn to give our lives away ... because God is
here for good
.