... for the Mighty One has done great things for me. Luke 1:49a

They said it was our Christmas gift—dinner out at a new restaurant. As we pulled into the parking we noticed an ominous sign: no other cars. "We should go someplace more familiar," one of them said. The other was already holding open the door to the restaurant. We would at least go inside.

We sat alone in a room set for three to four-dozen people. The restaurant had been open 48 days. The woman who waited on our table was specific and proud of that fact. She explained that Mondays were typically slow.

We ordered our meals and soon after the food service began ... one-plate-at-a-time. I watched as she placed a plate of sizzling sautéed prawns in front of our gentleman host. He raised his fork to start eating right away, but suddenly halted. He closed his eyes, pausing motionless. He was praying.

A minute later our waitperson served our other companion. She immediately lifted her fork and knife and began slicing her steak. She seemed determined to keep pace with the rest of us who had already finished our first bite.

Noticing that she was lifting food to her mouth, he said, "Aren't you going to pray?"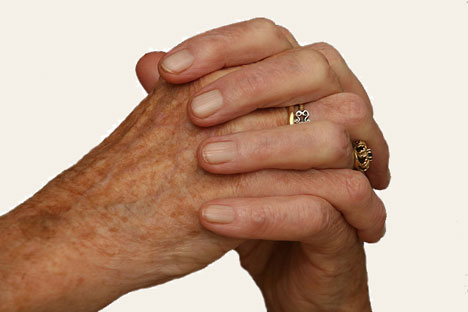 I expected another brief pause, a moment for a silent prayer. That is not what happened.

In deliberate fashion she raised her elbows to the tabletop, folded her hands, and bowed her head. The three of us followed her lead, setting our flatware down and bowing our heads. She began:

Lord we thank you for this food,
For friends and health we share.
Enrich our faith,
Give strength to serve,
And keep us in your care. Amen

I had been longing for a moment when God would come to me in some amazing way amid the busyness that defines this season. As it turned out, he entered not by way of a stable, just an almost empty dining room – a strange nativity indeed. He came again where I was not expecting, his angelic announcement borne on the lips of an ordinary saint, someone I call friend.

They had expected that this dinner would be their Christmas gift to Kathy and me. God had other plans. The best gift they gave that night came before our second bite of food. The Lord came to all of us that night in a simple, yet profound prayer.

I will not forget this Advent moment. Nor will I forget how that night so powerfully reminded me of how often the Mighty One has made his advents and epiphanies in my life at moments and in places far away from Sunday morning liturgies and established patterns of churchly piety. What was true of the stable of Bethlehem is as true today – our Lord still has a knack for doing great things in the most unexpected of places and through the most unassuming of people. Come, Lord Jesus. Come.