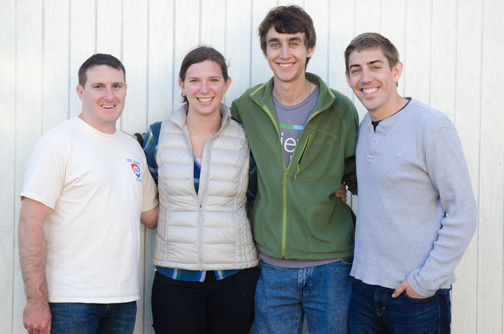 Between 2005 and 2010, and starting again in 2015, Messiah Lutheran Church has hosted fourteen college summer interns. Eight have made their way to ELCA seminaries. Five have attended Pacific Lutheran Theological Seminary (PLTS) in Berkeley, CA. In the group photograph are former and current PLTS students. (l-r) Jayson Nicholson ('08) is now a solo pastor at Our Savior's Lutheran Church (ELCA), Laurel, MT. Caitlyn Melillo ('10) is currently in her culminating pastoral internship year in Uruguay. Kevin Beebe ('10) just graduated from PLTS and is awaiting call to serve as a pastor in the ELCA. Ben Hogue ('09) was recently installed as Associate Pastor at Lutheran Church of the Reformation in Washington, D.C.
Paul Kaczynski ('07) graduated from PLTS in the spring of 2014 and is the Pastor Developer at Luther's Table in Renton, WA.
One of Messiah's first summer interns, Seth Novak ('05), completed his M.Div. degree at Lutheran Theological Seminary at Gettysburg. Seth and wife Stephanie (also an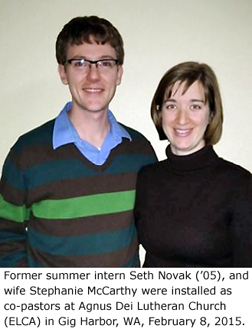 ELCA pastor) now serve as co-pastors at Agnus Dei Lutheran Church in Gig Harbor, WA.
Other former interns include Kyle Witek ('05) who now serves as associate pastor of youth ministry at a non-denominational church in Neenah, WI; Rachel Line ('06) who serves as the Executive Assistant to the Bishop in the Pacific Synod of the ELCA; and Rachael Manzo ('09) who completed her degree work in education, now lives in Los Angeles, and volunteers with the Pacifica Synod (ELCA) youth organization. Katie Molyneux ('15) graduated from Pacific Lutheran University with a degree in psychology and is seeking employment in social services. Austin Krohnke ('16) just graduated from Augustana Univerisity, Sioux Falls, SD, and is living the dream of his gap year—well sort of. Austin is teaching junior high science and religion in a private Catholic school in Chicago and taking online courses from Luther Seminary in St. Paul. Miriam Hanson ('16) is a second-year student at Trinity Lutheran Seminary in Columbus, OH, working toward her M.Div. degree. Hannah Norem ('17), graduated from Augustana University and is in her first year of a joint M.Div./Jurisprudence degree program at Wake Forest University Divinity School in Winston-Salem, NC. Just for fun, she's teaching confirmation at Augsburg Lutheran Church, also in Winston-Salem. Zach Croonquist is a senior at Gustavus Adolphus College and plans to do a year of service with the Young Adults in Global Mission (YAGM) organization of the ELCA starting next fall. To read about the summer intern program for 2019, click here.
To see the description of the upcoming 2019 summer experience or to obtain or share an application, click here.