FL!P (Faith Life in Progress) from 4:00 to 8:30 during the school year, begins Wednesday, September 16
Activities include Bible storytelling, games, crafts and music—Praise Patrol, NewSong, and Chaos! (for music details, see children's music ministries)
Three Years Old – First Grade
4:00–4:40 p.m. Godly Play Rm 105
4:45–5:15 p.m. Praise Patrol (choir) Rms 205-207
5:00–6:00 p.m. Dinner $2.00 Lower Level
Second – Fifth Grade
4:00–4:30 p.m. NewSong (choir) Sanctuary
4:35–5:15 p.m. CHAOS! Gym
5:00–6:00 p.m. Dinner $2.00 Lower Level
5:45–7:00 p.m. Godly Play Rm 105
Middle School and High School
Pax Christi - begins Wednesday, September 16
An exciting singing experience for grades six through high school led by David Teeter and Kaitlyn Roth. You will want to be a part of this! We will be concentrating on building choral/vocal and reading skills, further developing the singing of harmony, while learning new songs of praise and worship. We will add other instruments, including those that you play, guitar and percussion as time allows, and add our voices to Messiah's contemporary worship service. Come experience the "Peace of Christ" with your friends.
Ages: Grades six through high school
Time: Wednesday during the school year, 4:45–5:15 p.m., in the sanctuary
Confirmation Classes - begins Wednesday, September 16
Classes are held during the school year every Wednesday from 6:00–7:00 p.m., beginning in the fellowship hall.
Ages: Grades six through eight
Tuesday Morning Breakfast—free to all high school age youth! - Begins Tuesday, September 15
During the school year breakfast is hot and ready to go from 6:30 to 8:00 a.m. in the lower level dining hall. Rides to church and to all area schools, home schooled, etc., are available if needed. Invite a friend and join in for the infamous Messiah muffins, milkshakes, pancakes, waffles, French toast and more!
Wednesday Night Live - Begins Wednesday, September 15
High school youth are encouraged to check out the current events discussion/Bible study every Wednesday evening during the school year as part of FLIP schedule 6:00 to 7:00 p.m. in the youth room (201/203).
Sundays Coffee and Conversation - Begins Sunday, September 20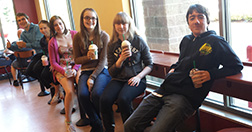 During the school year high school youth meet at Hazel Dell at 9:00 a.m. by the back gym door and head off-campus for coffee before attending worship together at 9:45 a.m. Invite a friend!
Adult
9:15–9:45 a.m. Baby & Me (music therapy); TBD
10:00 a.m. Pr Kathy's Book Club; Rm 205 (1st Wednesday of the month)
10:00–11:30 a.m. Adult Education Class; Begins October 14; Fellowship Hall; led by Pr. Peter & Intern Pr. Allison
4:00–5:15 p.m. Moms' Time Out; Conference Rm
5:00–6:00 p.m. Dinner, $4.00; Lower Level
5:30–7:00 p.m. Stephen Ministry Support; Preschool Blg.
6:00–7:00 p.m. Adult Education Class; Begins October 14; Rm. 101; led by Pr. Peter & Intern Pr. Allison
7:00–8:30 p.m. Messiah Worship Choir; Sanctuary
Adults can check out a number of other opportunities with Messiah's various small groups:
Prayer Groups
Bible Study Groups
Special Interest Groups
Fellowship and Service Groups