God. Conversation. Beer.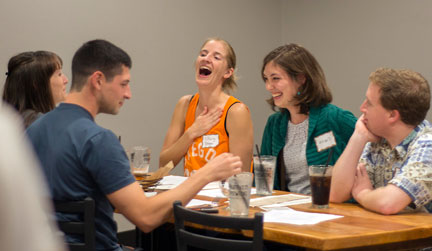 Facilitated by Pr. Peter and Intern Pr. Allison
Tuesday, October 27, 2015. 7:00-8:45pm.
Click here to register and to learn about the preparatory homework.
October Topic:
Déjà vu all over again (only faster): from Gutenberg to Google – the challenges of being a flesh and blood church in a digital world.
Guest Speaker:
Dr. Laura K. Simmons, Ph.D.
Professor of Christian Ministries
George Fox Evangelical Seminary
Synopsis: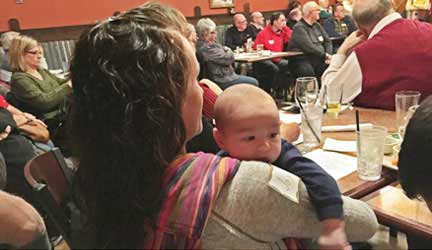 Mill Creek PubFive-hundred years ago the Church and the world experienced a paradigm shift fueled by the advent of the moveable type printing press. Today, the world is changing at breakneck speed as digital technologies continually evolve and dominate our lives. How might Christians faithfully align and assess all the messages and their messengers in light of their connection to Jesus and how might we convey the Gospel … digitally?
Location
Messiah's October TOT will meet once this month on Tuesday, October 27, from 7:00-8:45pm at MacTarnahan's Taproom at Portland Brewing Company.
An Important Detail Regarding the loccation.
We will be meeting in the Highland Room of MacTarnahan's Taproom. If you arrive early, please inform the host that you are with Messiah's TOT group and go directly to the Highland Room. Do not sit in the regular seating area of the pub, no matter how early you arrive. A wait person will serve you in the Highland Room. Thank you.
TOT has three goals:
to engage in relaxed and guided conversation about interesting and often profound theological topics;
to enjoy some of the finest craft beers anywhere;
and to do it with some of the best people around.
The meeting place is usually a local craft brewery or pub in North Portland or Clark County. Mill Creek PubThe meeting days are typically the fourth Tuesday and Thursday of the month. The location, dates, and topic are disclosed in a monthly TOT email from Pr. Peter and Intern Pr. Allison. They also provide the Preparatory Homework in the form of readings and/or videos accessed on the internet. If you are not already on the TOT distribution list, contact
This email address is being protected from spambots. You need JavaScript enabled to view it.
and he will add your email to the list.
Previous topics have included:
Close Encounters of the Divine Kind: Angels, Messengers, Messages, and You
God of Heaven and Mirth: God, The Bible, and Holy Humor
Dying Well
God and Sports: Silly or Serious?
Ready ... Set ... Stop? The War on Rest, and the Need for Sabbath
Affluenza: Where can I find the vaccine?
Incoming Call: ... God? Call, Vocation, Purpose ... and other ways to think about what the heck you are doing here, and why what you do counts.
Untapped PubDazed and Confused: Are we sinners or saints for having decriminalized the sale, possession and use of pot in Washington State?
What the Hell? Where is it? Why is it? When is it?
Is Jesus a Republican or Democrat?
The E-Word
The Death of the Church
Single, Divorced, Living Together: Why is the Church so Uncomfortable?
Space, Aliens, & Jesus Christ: Wanna be an Astro Theologian?
The Gifts of Imperfection
Losing My Religion
Building a Civilized Workplace and Surviving One that Isn't
A Christian Response to Panhandlers
Christian Faith and Mental Illness
Angels and Demons
What Happens When You Die?— Reincarnation, Resuscitation, Re-absorption, Replenishment... or Resurrection?
If God is so close, why is God so hard to find?Feral Public House - Home of Heathen Brewing
Money, Culture, and You
Death and Dying: The Ethics and Challenges of End-of-Life Decisions
Forgiveness—What is it exactly... or not so exactly?
Spiritual, but not Religious—Stop Boring Me
Pubs and breweries where TOT has met thus far:
Feral Public House - home of Heathen Brewing
Fortside Brewing Company
Ghost Runners Brewery and Taproom
Untapped Pub
Heathen Brewing Night in the Big Back Yard of the Intern House
Loowit Brewing Co.
Dirty Hands Brewing Co.
Mill Creek Pub
Total Wine and More nights in the homes of Ted & Julie Johnson and Intern Joe
Lucky Labrador Brewing
Laurelwood Brewery
MacTarnahan′s Taproom at Portland Brewing Co.
Amnesia Brewing
Hopworks Urban Brewery
Rail Side Brewing
The Brickhouse