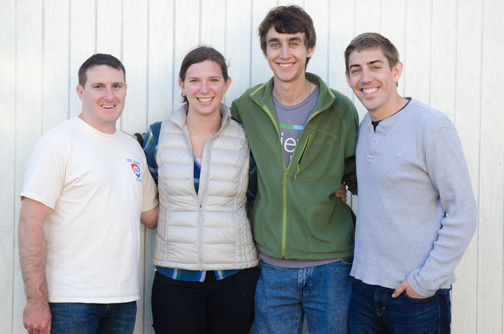 Messiah will provide internships for one college student this summer. Pastoral interns Ben and Kristen will help serve as mentors. |
At its February meeting the Church Leadership Team (CLT) approved a plan to resume Messiah's summer internship program for college students. The program was put on hold in 2011 as the congregation prepared and transitioned into becoming a full-year pastoral internship site for Luther Seminary, St. Paul, MN.
The 10-12 week summer internship is characterized as a "full-immersion" experience into the daily life of Messiah's dynamic, active, and growing congregation. Lutheran campus pastors in the West and Midwest are now being contacted to help identify potential candidates. The experience will provide a structured and intentional opportunity for interns to discuss and discern where God may be calling them to serve in their vocational lives. Pictured above (l-r) are former summer interns Jayson Nicholson, Caitlyn Melillo, Kevin Beebe, and Ben Hogue on the campus of Pacific Lutheran Theological Seminary in Berkeley, CA, last September. To read the description of the experience or to obtain or share an application,
click here
.
To catch up on all of Messiah's former summer interns,
click here
.