2 minutes reading time
(329 words)
Compassion Ridgefield 2015 Report

Last weekend Messiah Lutheran Church participated in Compassion Ridgefield. Messiah has been involved in this ministry since its inception in 2011 and members from Messiah's North County campus have served on its leadership and planning board each year.
Statistics from this year's clinic:

• 45 dental hygiene appointments
• 55 restorative dental appointments, including 39 extractions
• 42 medical visits
• 18 chiropractic appointments
• 5 PT appointments
• 10 foot-care appointments
• 63 vision checks, with glasses when needed (donated by the Lion's Club)
• 49+ hair cuts
• 45 manicures
• 60 massages
• 59 children registered in the Kid's Zone
• 30 organization at the Social Services Fair
• countless articles of clothing given.
• approximately 500 lunches served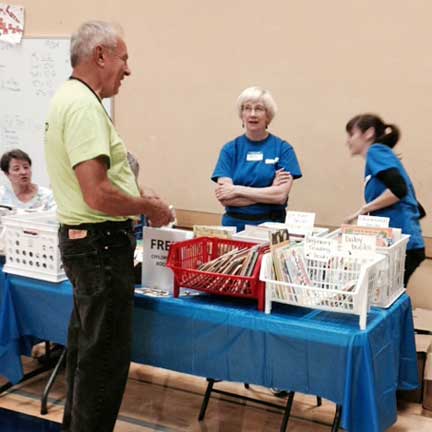 Messiah's Book Table at Compassion Ridgefield 2015Nutrition classes were also provided and a presentation by Shared Hope International was given about human trafficking taking place locally.

A Kid's Zone was abuzz with activity including reading time with the local librarian. The Ridgefield Fire Department showed the children one of their fire engines. There was a cakewalk, Super Slide, bounce house, face painting, and craft time.

One of the most popular tables was the book give-a-way sponsored by Messiah. All of the books—and there were hundreds, if not thousands of them—were given away to both children and adults. The few remaining at the end of the day were taken by the Ridgefield Library to be given away there.

In addition to all the services provided at View Ridge Middle School and Union Ridge Elementary school where the event took place, a small group of volunteers went to the Ridgefield School District maintenance building to build and paint shelving for a Family Resource Center scheduled to open on October 15, 2015. The Family Resource Center will be a distribution point for food, clothing and basic toiletries for any child or youth (0-18 yrs.) who has need of them.

Five churches collaborated to bring Compassion Ridgefield 2015 together: Messiah Lutheran Church, Mountain View Christian Center, Pleasant View Nazarene, Ridgefield Community United Methodist Church, the Ridgefield Church of the Nazarene.