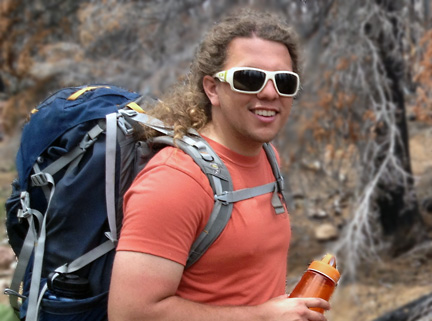 Good-byes are really not my thing.

Whether ending a backpacking trip, a year-long internship, or even just an airplane ride sitting next to a stranger, when it comes to good-byes, it doesn′t get much worse than me. Some people turn into a crying mess, some write lengthy and meaningful letters, while others just escape out the back door. I, however, just stand there like a robot: no tears, no beautiful words, no honoring the past while stepping forward into a new horizon... just pure robotic awkwardness. Instead of sharing in a good cry or letting someone know their importance in my life, I stand there wondering what to do with my face. Should I smile or should I try to get some tears to come out? I know, not good...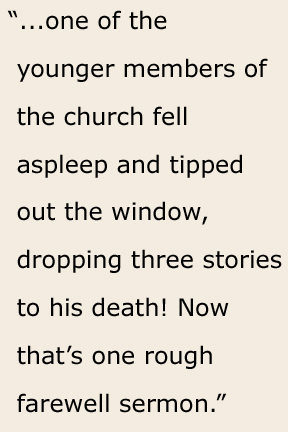 This aversion to good-byes has not served me well recently. In the past three years alone, I have had to say good-bye to six incredibly important communities of people, each time a little more awkward and a little more difficult. And now, once again, I stand at the doorway of my next adventure, saying good-bye to this one, even more difficult and awkward than the last. And the good-byes have already begun...

I suppose there is some comfort in the apostle Paul, who also had to learn how to say good-bye. Although many remember Paul for his beautiful farewell words to the people at Ephesus, fewer remember his blunder in Troas days prior. Apparently Paul had so much to say before he left in the morning that he talked endlessly into the night. So long in fact, one of the younger members of the church fell asleep and tipped out the window, dropping three stories to his death! Now, that′s one rough farewell sermon. Luckily for Paul, he was able to raise the young man from the dead, but the fact remains that even Paul struggled with good-byes.

I think we all do. Good-bye means final, over, finished, and complete. Where there were once commas, colons, and hyphens there is now a period at the end of the story. Good-bye means done. But as Christians, we preach about a God who just couldn′t stay away. Even after the disciples started to grasp the finality of Jesus′ death, he came back! Then, even when he is about to leave again, he doesn′t say good-bye, he say′s "see you soon," promising that he will come again. So perhaps there is something deeply theological about our uneasiness with saying good-bye.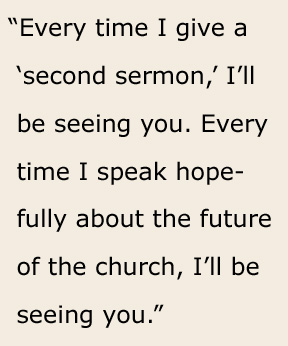 So instead of struggling with saying good-bye once again this month, perhaps it is time for me to start saying, "see you soon." Because in Christ that is exactly what I'll be doing: seeing you. Seeing each one of you as I open the next chapter of my life. Seeing you in the incredible impact you have had on my life, my growth, my faith, and my ministry. Every time I give a "second sermon," I′ll be seeing you. Every time I speak hopefully about the future of the church, I'll be seeing you. Every time I need to remember that I am loved and affirmed in this scary and uncertain call, I'll be seeing you. The Holy Spirit has worked incredible wonders in my life through this community and I will continue to see these wonders long after I am gone from here!

And I hope you'll see me too.

Sure, this is probably the last time I'll be back to this church and it's probably the last time I'll see many of you in this life. But that's OK because with Christ it's never truly good-bye anyway. It's always "I'll see you soon." For we preach a resurrected Lord who will carry us all into the promise of eternal life. So, Messiah Lutheran Church, I'll see you soon, but in the meantime keep being your totally awesome selves! Keep the faith, change the world, and never forget that God loves you no matter what. See you soon.