1 minute reading time
(187 words)
Messiah Music Programs Begin

Messiah worship choir rehearsal resumes Wednesday evenings at 7:00 in the Hazel Dell campus sanctuary. This is an all volunteer choir for high school-adult, no audition is required. Just show up for rehearsal on Wednesday evenings in the sanctuary. The only requisite is that you love to sing with others who share this same love. If you want to be involved in a ministry that touches many, this is for you.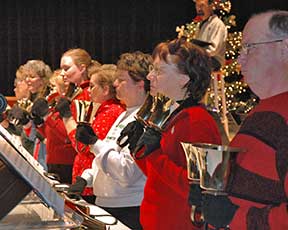 Messiah worship orchestra begins Sunday, September 20 at 11:00 a.m.–12:00 p.m. in the Hazel Dell campus sanctuary. Add energy to Messiah's worship, accompanying the singing and providing special music. For high school-adult, no auditions required, only that you feel comfortable with the playing of your own orchestral instrument. Just let David F. Teeter know that you are interested.

Joyful Noise handbells begins Tuesday, September 22 at 6:00–7:00 p.m. at the Hazel Dell campus, music room 205/207. For middle school-adult, no music reading required. We teach everything you need to know to make beautiful music with bells. Contact David F. Teeter if you are interested. This is a wonderful opportunity to make new friends while learning new skills and making beautiful music!