Sunday, May 24, 2020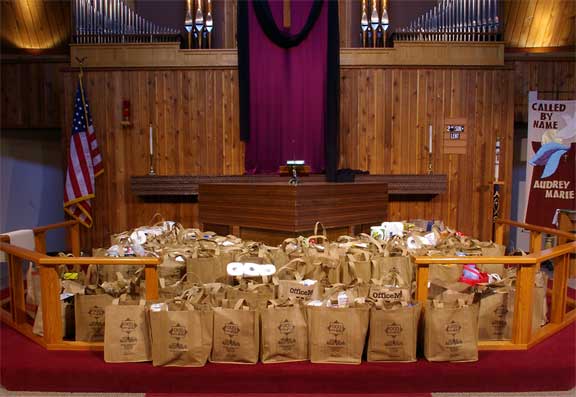 May Food on the 4th offering will go equallly to Neighbors Helping Neighbors Food Bank in Ridgefield and The Lewis River Mobile Food Bank.

Due to the coronavirus pandemic, Food on the 4th offerings are temporarily restriced to cash, checks, and online giving. Previous COVID months' offerings have been $2,500-$3,000. Thank you. Thank you. Thank you.
Then the righteous will answer him, "Lord, when was it that we saw you hungry and gave you food, or thirsty and gave you something to drink? And when was it that we saw you a stranger and welcomed you, or naked and gave you clothing? And when was it that we saw you sick or in prison and visited you?" And the king will answer them, "Truly I tell you, just as you did it to one of the least of these who are members of my family, you did it to me." -- Matthew 25:37-40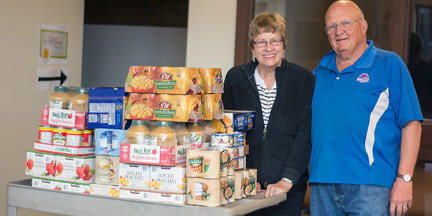 What was planted as a mere seed of an idea within Lynne and Dave Radke while visiting Camano Lutheran Church over ten years ago, has grown into a successful and tremendously beneficial ministry of Messiah. In the fall of 2009, Lynne put her idea to paper, completed a simple Seeds of Faith request form and within a couple of days had a $400 grant from the MFAMI (Money for a Magnificent Idea) benevolence account of Messiah to purchase cloth grocery bags. The $400 investment has produced a harvest of benevolent good many times over.

Since its inception in 2010, over 79 tons of food and sundry items have been brought forward as part of the offerings on the fourth weekend of each month. A conservative estimate of the value of those goods is currently $268,000.

The collections are delivered on an alternating month basis to the Lewis River Mobile Food Bank operated out of Highland Lutheran Church in La Center and Ridgefield's Neighbor Helping Neighbor Food Bank. Both organizations have expressed their thanks, gratitude, and amazement at what one congregation has accomplished.

In 2017, the team has added the Ridgefield Family Resource Center, operated within the Ridgefield School District, as an additional, every-month beneficiary of Food on the 4th offerings.

Thank you for your enthusiastic and generous support of this ministry. Because of your gifts, residents of Clark County have received much-needed assistance during what has been and continues to be a period of profound food insecurity in our community.