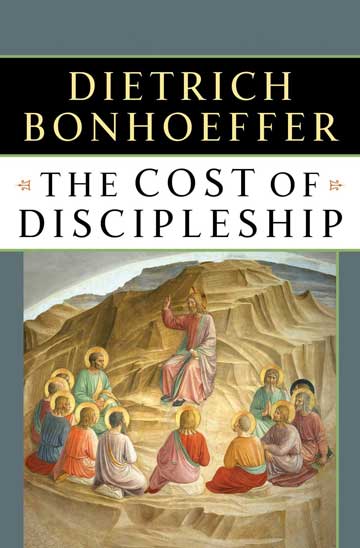 Reading for this week - pgs. 57-85


Based on Dietrich Bonhoeffer's The Cost of Discipleship
Tuesdays at 6:00am (Prayer Breakfast Group)
Wednesdays at 10:00am


Pr. Peter and Intern Pastor Taran invite you to a new online study starting this week. The course and conversation will be based on a modern classic: "The Cost of Discipleship" by Dietrich Bonhoeffer, first published in 1937.


While pastors can't predict how this reading and accompanying reflection will influence the Messiah community during these days of 'compassionate distancing,' they are confident it will.


Peter and Taran will offer two opportunities to participate each week. First, with the Tuesday Morning Prayer Breakfast Group at 6:00am, and second, on Wednesdays at 10:00am.


Please immediately contact Pr. Peter via email, if you would like to participate in either group. He will provide the link for the first sessions this week. Double-dip in both groups if you wish.


The book is available in both paperback and Kindle versions here at Amazon. Participants need to order their own copy.


Reading Schedule


GRACE AND DISCIPLESHIP
March 24-25
Introduction and Costly Grace: pgs. 35-56

March 31/Apr. 1
The Call to Discipleship, Single-Minded Obedience: pgs. 57-85

April 7-8
Discipleship and the Cross, Discipleship and the Individual: pgs. 86-102

THE SERMON ON THE MOUNT
April 14-15
The Beatitudes, The Righteousness of Christ, The Brother: pgs. 103-130

April 21-22
The Woman, Truthfulness, Revenge, The Enemy—the Extraordinary: pgs. 131-154
April 28-29
The Hidden Righteousness, The Hiddenness of Prayer, The Hiddenness of the Devout Life, The Simplicity of the Carefree Life: pgs. 155-181

May 5-6
The Disciples and Unbelievers, The Great Divide, the Conclusion: pgs. 182-198

THE MESSENGERS
May 12-13
The Harvest, The Apostles, The Work, The Suffering of Messengers, The Decision, The Fruit: pgs. 199-222

THE CHURCH OF JESUS CHRIST AND THE LIFE OF DISCIPLESHIP
May 19-20
Preliminary Questions, Baptism, The Body of Christ: pgs. 223-247

May 26-27
The Visible Community, The Saints, The Image of Christ: pgs. 248-304