Wednesday, May 15, 2019, 10:00am - 11:30am
This repeat is an exception to the normal repeat pattern
Reading for May 15: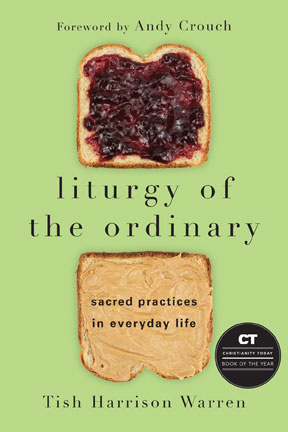 pgs. 88-127, chapters 7-9
10a session meeting at Latte Da Coffee House
6p session meeting at Grapes and Growlers in Felida


Sessions at 10:00-11:30a and 6:00-7:00p | Wednesdays, April 24, May 8, 15, 22


Pr. Peter is leading the Wednesday Adult Bible study in a 4-week spring session class based on Tish Harrison Warren's book "Liturgy of the Ordinary: Sacred Practices in Everyday Life." Identical sessions at 10:00a and 6:00p.


The text is beautifully written and easily accessible to all readers. The content will simultaneously heighten awareness and appreciation for the various parts of liturgical worship we typically employ at Messiah and move students to see how these forms become part and parcel of our daily lives. Guided by Pr. Peter, students will review and discuss assigned passages (approx. 36 pages/week) during each of the class sessions.


Synopsis of – Christianity Today Book of the Year for 2018
Framed around one ordinary day, this book explores daily life through the lens of liturgy, small practices, and habits that form us. Each chapter looks at something: making the bed, brushing her teeth, losing her keys, that the author does every day. Drawing from the diversity of her life as a campus minister, Anglican priest, friend, wife, and mother, Tish Harrison Warren opens up a practical theology of the everyday. Each activity is related to a spiritual practice as well as an aspect of our Sunday worship.


About the Author
Tish Harrison Warren is a priest in the Anglican Church in North America. After eight years with InterVarsity Graduate and Faculty Ministries at Vanderbilt and The University of Texas at Austin, she currently serves as Co-Associate Rector at Church of the Ascension in Pittsburgh, PA. She writes regularly for The Well, CT Women, and Christianity Today. Her work has also appeared in Comment Magazine, Christ and Pop Culture, Art House America, Anglicanpastor.com, and elsewhere. She is from Austin, TX, and now lives in Pittsburgh with her husband and two young daughters.


Reading Schedule for
Liturgy of the Ordinary: Sacred Practices in Everyday Life
by Tish Harrison Warren


May 15
pgs. 88-127, chapters 7-9


May 22
pgs. 128-153, chapters 10-11