Children & Family Ministries
The children and family ministry program is committed to helping children and their families grow in faith together, and build on our foundation, Jesus Christ, in sharing God's love with others. Programs are designed for children ages three years-fifth grade and include Sunday school, Faith Life in Progress (FL!P), Messiah's highly-regarded preschool, Vacation Bible School, parenting classes and support opportunities, and other special events.
Programs are also available that support the whole family. Quarterly family devotionals are available in the foyer and are also available to celebrate Advent and Lent. Throughout the year, small group Bible studies are organized that aid, guide, and support parents' efforts to raise centered, well-rounded, and actively Christian children that share God's love with others.
New volunteers are always welcome. A successful ministry is not run by one, but by the many and varied hands that help! You are invited to consider the many amazing and life-fulfilling opportunities to serve with the children and family ministries. Opportunities abound on Sunday mornings, Wednesday evenings, and with special events. Only a desire to share God's love with Messiah's children is required. Contact This email address is being protected from spambots. You need JavaScript enabled to view it. if God is calling you to serve.
Children's Faith Formation
Godly Play® Sunday School
Children three years old to 5th grade begin Godly Play® at 9:30am while parents go to worship. Children are escorted to the sanctuary by teachers after the sermon to finish worship with their families. Children participate in the children's message followed by Communion and a closing hymn.
Godly Play®
Godly Play® is a method of Christian education that recognizes that even our youngest children have an innate awareness of God's presence; they simply lack our adult Christian language to express that awareness. Godly Play® uses a child's natural desire to hear stories, play, and create to teach them our Christian language in a prepared and intentional environment created for them. This program is being used with the three-year-olds through fifth graders as their Sunday school class.
Godly Play® curriculum is also used during the school year at FL!P on Wednesdays for three year olds to first graders from 4:00-4:40p along with second to fifth graders from 6:00-7:00p.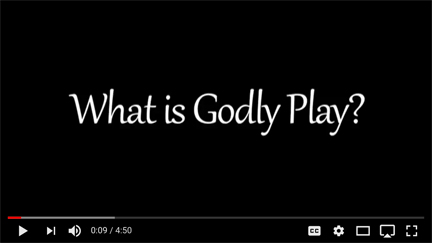 Watch Messiah's intro video to Godly Play®
For more information on Godly Play®, please follow these links:
What is Godly Play®
Godly Play® Foundation
Regular Programming During the School Year
Midweek programs for 3 year olds - 5th grades from 4:00 to 7:00p during the school year. Activities include Bible storytelling, games, crafts and music—Praise Patrol, NewSong, and Chaos! (for music details, see children's music ministries)
Three Years Old – First Grade
4:00–4:40p Godly Play® Rm 105
4:45–5:15p Praise Patrol (choir)
5:00–6:00p Dinner in lower level dining hall

Second – Fifth Grade
4:00–4:30p NewSong (choir) Sanctuary
4:35–5:15p Chaos
5:00–6:00p Dinner in lower level dining hall
6:00–7:00p Godly Play®
Family Dinner Hour
A night off from cooking and a wonderful opportunity to eat and visit with Messiah families! Our volunteers prepare tasty home-cooked meals for all to enjoy! $2–$4 suggested donation. (Soup Suppers during Lent)
Time:5:00–6:00p, LL dining room
Other Opportunities to Get Connected and Build Faith
Messiah Mom's Group
Moms come in all shapes and sizes, but one thing is for sure—all moms need to connect. Messiah Mothering is a Bible study/fellowship small group that brings moms together and helps them connect naturally, through discussion, Bible study, crafting, and fun. This is not your traditional book study. Each week offers a self-contained lesson, a craft project, or the opportunity to simply socialize with other moms! There is never any homework, just lifework to take home and complete as your schedule allows. No matter where a mom is on her journey, she is welcome at Messiah Mothering. Free, onsite childcare is provided.
Time: 9:30–11:30a, Monday, room 101; Meets during the school year


Permission Slips and Safety
Don′t forget the Liability and Release Form 2017-18 your child needs for participation in any of the activities. This form is needed for Sunday school, youth ministry activities, confirmation, and FL!P. Please fill out the form and return to the church office. It is important that Messiah has this information on all young people before they can participate in programs. This is for their health and safety.
The safety of Messiah′s children is important to us. Washington State background checks on all people working with children and youth are required. These are updated every two years. Forms are available in the church office or can be downloaded and printed from this website by scrolling to the bottom of the home page to Media and clicking on forms.
Messiah Lutheran Church and Preschool