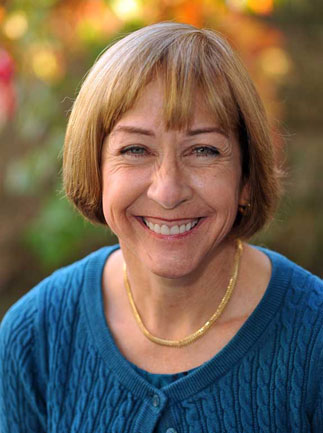 What was an important Jesus moment in my life?
My first important Jesus moment happened to me during a Good Friday service when I was 38. I was a mom, Sunday school teacher, and Bible Study Fellowship Children's leader. I had a lot of head knowledge from studying the Bible, but didn't feel Jesus' death in a personal way until that night. About half way through the service, I felt God/the Holy Spirit in my heart and realized Jesus' sacrifice was truly for me.
What's my favorite TV show?
It's currently CBS Sunday Morning. I watch it while I'm drinking my morning coffee and eating graham crackers before I get ready to head to church. The stories are so varied and I learn a lot about God's amazing world and His people.
What's the most trouble you've ever been in?
During dinner when my twin sister and I were six, my dad wanted to put some salt on his corn on the cob. Uh oh, the salt shaker wasn't on the table. I had to confess that I'd left it out by the swing set where my sister and I had been shaking salt on slugs so they'd shrivel up. Boy did I run fast to retrieve that shaker from under the swings and wipe off the dirt. (I've gotten myself into trouble a few more times, but I'm not ready to share those.)
What's a fun fact people don't know about you?
Twelve years ago, I received a kidney from a gunshot victim in Utah. This tremendous gift from God and the grieving family has truly blessed my life. The transplant has given me the energy to continue loving and serving God and having fun with my students at Messiah's preschool.
What's something that made me laugh in my classroom?
Several years ago, I had a very articulate, earnest little boy in my class who learned my name wrong. Instead of Mrs. Haywood, he called me Mrs. Wayhood. He was trying so hard, but once he learned it wrong, he couldn't get it switched back around. It sure is hard to change the wiring in your brain once you've learned something incorrectly. I still struggle with the pronunciation of some words like gauge. I thought it rhymed with lodge and didn't pronounce it "gage" until my late twenties. I have several other words that give me trouble, too.
What's something I've learned about myself or my faith from my students?
My assistant teachers and I pray each day before school starts. We ask God to give us His eyes to see what each child needs and to remind ourselves that God is right there beside us. We are doing His work in the classroom with his loving support and guidance. We ask God to show the children how much He loves them and how very special they are. Our days go so much better when we remember that God is with us.