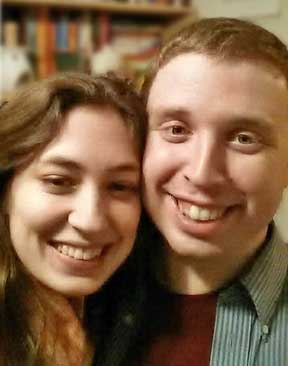 Allison will serve as Messiah's '15-'16 Pastoral Intern. Timothy will serve a half-time AIM (Associate in Ministry) Field Experience
Greetings Messiah Lutheran!
Hello from Minnesota! We're Allison and Timothy Siburg, and we will have the joy and privilege of learning, leading, growing and serving alongside you starting this September. Allison is excited to be your pastoral intern, and Timothy will be leading as a part of his experience and learning towards being an Associate in Ministry. We'll be following in the footsteps of our PLU and Luther Seminary friend Joe Natwick, and this year's awesome co-interns Ben and Kristen. You'll quickly realize we don't have the big hair like Joe and aren't native mid-westerners like Ben and Kristen, but you'll learn what's unique about us, we're sure

We're excited to say that coming to Vancouver is sort of a homecoming for us, as we both grew up in Washington. Allison is originally from Issaquah and Timothy from Poulsbo. It's the first time we will be living in WA since we got married in 2010 and then moved to Minnesota for seminary five years ago.

We're excited to serve together as a ministry couple. We are so grateful that we will be able to learn from and be mentored by a talented pastor-couple in Pastors Kathy and Peter!

To get to know a little bit more about us, allow us to introduce ourselves:
Allison
I'm Allison, and I'm thrilled to be Messiah's Intern Pastor this year! Since I was little, I've always been asking questions about who is God: Where is God? Does God listen to our prayers? Does it even matter if we believe in God? I got to explore these questions further as I worked at Camp Lutherwood in Bellingham, went on a mission trip to the Dominican Republic, served on campus and studied in my religion classes at Pacific Lutheran University. At PLU I really found my voice and a community of friends and learners, and one such friend became my husband Timothy!
Timothy
I'm Timothy, and I will be serving Messiah as part of my experience and learning towards being an Associate in Ministry. I'll be primarily serving the North County site around mission and vision, as well as doing some work for the Southwestern Washington Synod.
PLU, Marriage & Luther Seminary
We started dating our senior year at PLU in the fall of 2008, just in time to apply for grad school programs. In 2009-2010 Timothy lived in California and Allison served as an intern of the

for-profit collaborative his mom formed at First Lutheran. The year and distance helped us discern quickly that we were meant to be together. We got married at First Lutheran in August 2010, loaded up a U-Haul to move to Minnesota, and continued following our callings towards ministry. We started our Master of Divinity degrees before we both later switched to MA programs.
Allison switched to the MA because she felt she could explore her unique voice and passion for young women in vocational discernment more in that program, which turned into her thesis topic. Timothy changed to a MA which allowed him to more fully tie his interest in leadership, stewardship and mission together. We graduated from Luther in 2012.
Since Graduating from Luther Seminary
Allison served at Trinity Lutheran in Stillwater, MN in an experimental role leading and editing life-long learning curriculum and leading a church collaborative effort with partners all around the country. Although she got to teach, preach, mentor and write, she felt like she kept hitting a wall without being in the same vocational space as pastors. So in January 2015 she went back to Luther, using her MA credits to complete her Master of Divinity, and explore what ordination might mean for her now. Internship is the last part of her program as her other credits are almost complete.
Timothy's served a couple MN congregations as worship, music and stewardship directors and provided congregational coaching and consultation around leadership. He continues to serve as part of the Ecumenical Stewardship Center and a leadership ministry group based out of the Gulf Coast Synod called LEAD.
Allison and Timothy
We're excited to move back to the Pacific Northwest and be in community with all of you this year. Because we value relationships and stories, we hope to be able to spend time getting to know you and walking alongside you. Along the way you'll probably get to meet some of our family too, as they're only a 3-hour drive away. Just like you get to see Pastors Kathy and Peter "work out their marriage" in front of you, you'll get to have the same fun with us! We're excited and we hope you are too. Thank you for your prayers and support, and we're holding you all in prayer too!
Quick Facts about Us



Allison


Timothy


Parents


Jakki & Rob Parks, Issaquah


Tricia & Dave Siburg, Poulsbo


Siblings


Maria (and Derek) Harwell, Kirkland


Thomas, Minneapolis;
Tamara, Poulsbo


Home Church


St. Andrew's Lutheran (Bellevue)


First Lutheran (Poulsbo)


Musical Instrument(s)


Cello, Handbells, Voice (Alto)


Piano, Handbells, Voice (Tenor)


Major(s) at PLU


Religion, and minor in
Women's & Gender Studies


Economics & Religion


# of Family who've gone to PLU


3


14


Pastors in Family


Uncle David Parks, Our
Savior's Lutheran (Everett)


Uncle Jeff Tengesdal, First English Lutheran (Appleton, WI) & Grandpa Tengesdal


Graduate Degree(s)


MA- Systematic Theology (Luther Seminary, 2012)


MA- Management (Drucker School, Claremont, CA, 2010) &
MA- Congregational Mission & Leadership (Luther Sem., 2012)


What we drink at coffee shops


Decaf Vanilla Americano w/room


Hot Chocolate


Quick Ways to Our Heart


Coffee dates,
walks in nature


Chocolate Milkshakes, Chocolate Chip Cookies &
Hot Chocolate


Favorite Sports Teams


Mariners


Mariners & Seahawks