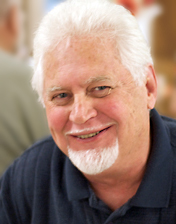 Guest blogger and Messiah member Jim Swenson reflects on a recent experience during worship.
As a Lutheran I have discovered I, and maybe you too are shy when it comes to expressing praise to our Lord. Here is my discovery. True, we sing praise songs to our Lord. But then what?
Recently we visited our daughter's church in Olympia, WA. They too sing praise songs to our Lord. What I discovered is that the worshiper's hands were raised in triumphant as they sang God's praise. What an uplifting expression of praise.
I recall that when the Seahawks make a touchdown I jump up and raise my hands in praise of the Seahawk offence. Or when the Seahawk defense defends the goal I jump up raising my hands in praise for the triumphant defense.
Seems I can easily express exuberant praise for the Seahawks but not so much for our Lord. What gives? Our Lord has given each of us the greatest triumph of all.
On the first Sunday in November the praise song screen had a man raising his hands in praise. I felt an urge to jump up and ask my worshiping family to join him in raising our hands in like manner. But then I am Lutheran and shy. Help me satisfy my urge. Just once would be a start.
Jim Swenson