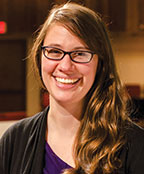 We've all seen it. People singing with their eyes closed, and their hands raised high, maybe even jumping around in circles, or people standing still, no emotion seeming to pass over their faces. But who is truly worshiping? What is the most "heart-felt" way to express musical praises to our God?
As a worship leader, there is a certain amount of time I spend looking for new music to incorporate into our church's repertoire, songs that proclaim the truth of Jesus. I choose these songs based on the lyrics' soundness in Scripture, playability (how easy is it to sing, to follow along, and to play? Will it work for the instrumentation we currently have available?), input from the team, and prayer. However, choosing a song and singing it is a very different thing than worshiping through song. Moreover, what is worshiping through song supposed to look like in this day and age where there are so many different messages sent through the inter-webs, different church cultures and denominations, about the "right" way to worship?
Now would be a good time to look to the Bible!
Romans 12:1-2
I appeal to you therefore, brothers, by the mercies of God, to present your bodies as a living sacrifice, holy and acceptable to God, which is your spiritual worship. Do not be conformed to this world, but be transformed by the renewal of your mind, that by testing you may discern what is the will of God, what is good and acceptable and perfect.
Psalms 59:16
But I will sing of your strength; I will sing aloud of your steadfast love in the morning. For you have been to me a fortress and a refuge in the day of my distress.
Psalms 150
Praise the LORD! Praise God in his sanctuary; praise him in his mighty heavens! Praise him for his mighty deeds; praise him according to his excellent greatness! Praise him with trumpet sound; praise him with lute and harp! Praise him with tambourine and dance; praise him with strings and pipe! Praise him with sounding cymbals; praise him with loud clashing cymbals! Let everything that has breath praise the LORD! Praise the LORD!
1 Corinthians 14:15 (ASV)
What is it then? I will pray with the spirit, and I will pray with the understanding also; I will sing with the spirit, and I will sing with the understanding also.
All of these verses shed light on different ways of worshiping. Romans 12:1-2 emphasizes that the very lives we live can be a form of worship to God. Psalms 59 highlights singing and thanking God for saving us in our distress. Psalm 150 encourages believers to praise God with loud instruments, while 1 Corinthians encourages believers to sing with understanding.
It is apparent in just four Bible verses that worship can take many forms, all of which are true and valid. Just as there are many different people, we worship our Creator by many different means. What seems to matter most in the end is the bringing of our hearts to God and the grace that God brings to us.
One of today's contemporary songwriters, Matt Redman, sums it up in his song,
The Heart of Worship
written in 1999. It says:

"When the music fades, all is stripped away, and I simply comeLonging just to bring something that's of worth, That will bless Your heart.I'll bring You more than a song, for a song in itself is not what You have requiredYou search much deeper within, to the way things appear, You're looking into my heart.I'm coming back to the heart of worship, 'cause it's all about You, all about You, JesusI'm sorry Lord for the thing I've made it, When it's all about You, all about You, Jesus."
It doesn't matter what we look like when we worship. What matters is that we bring our hearts to God, no matter where we are or how we are feeling that day, no matter what may be pressing on us; we give our hearts to God, saying, "it's all about You, Jesus."