I have seen the Mighty One. I have watched as the Holy Spirit moved through a room and touched each individual. I have heard God speak. The Lord has brought me to tears. All of this, and more, I have been able to witness through the children of Messiah—through Godly Play. I have had my heart smile through the words and actions made from these children each Sunday morning and every Wednesday night. I still get goose bumps each time I enter the Godly Play Sunday school rooms. The moments of clarity that the children bring to the room still brings silence, stillness, and pure joy, into my heart.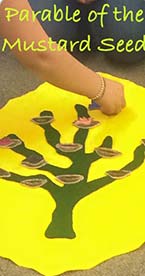 The glimpses of God moments are never ending in our Godly Play rooms as the children say things such as
, "this is where we learn about Jesus and God's promises for us"
(Carter Jean Bial, Pre-K). Or after hearing the Parable of the Sower,
"I'm building a nest for the birds... even the birds who eat the dropped seeds need a home"
(Kennedy Howard, 6th grade). Or, after giving each child an opportunity to pray, one child says,
"God, thank you for our story today, where we learn about you, and thank you for our teachers, because, we love them"
(Gracie Hawley, 1st grade). Lastly, after the baptism lesson to a new child at the church,
"this is the light of your baptism, or for when you will be baptized. This is your light, for you"
(Jasmine Homme-Libbey, 4th grade).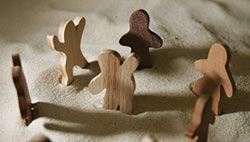 No matter how many times I have experienced a Godly Play lesson, I am moved each time by what the children have to bring to the circle. Children spirituality is so truthful and raw, and Godly Play gives them the language they need for communicating and understanding the Christian language. I get to see the Mighty One at work. I am able to watch as the Holy Spirit moves from the story, through each child in the room. I am incredibly blessed and thankful to witness as God speaks through them, to each other, to me, to their parents, and into their work.
"For the mighty One has done great things."
Luke 1:49