When I think back on all the life that God has allowed me to live, I see the strong preserving hand of God. When my missionary mother was playing with me as an infant in the waves off a beach in Brazil a huge towering surprise wave came crashing toward her. God helped her to throw me to a seven foot tall Indian native friend close by who held me above the waters as my mom was tumbled out into the ocean. Later when I shot my "cap" gun at my brother, he drew his bow and shot his arrow at me in a game of "Cowboys and Indians." God's armor bounced the arrow off my chest when it could have ended my life.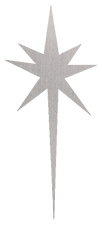 As a young man, having no understanding of what was ahead, I made choices. I can look back now and see God's directing finger in all of it even while I was so totally unaware of His presence. In college, the musical courses and applications I pursued with passion, knowing I would never use any of it... now I see God's preparing me for a time 30 years later in the ministry of music and worship here at Messiah.
In finding my life mate, Winnie, at the foolhardy age of 20 years... in becoming a parent of four children before I was 28 years wise... in discovering that love is an active force that begins in the desire to see the best in another, with no expectation for return. In a time when bills took up every penny we had, having no food to eat for a family of six... God was there in the prompting of the hearts of his people who laid groceries on our back doorstep, without even knowing there was a need... in seeing our children grow and blossom into parents who teach our grandchildren to love and serve the Lord.
In moving from Southern California to the Pacific Northwest... in a career of banking and real estate finance... in a second career of technology and personal computer and local area network support... in a third career of ministering in worship and music... in having heart surgery and seeing the miraculous hand of God in the talent that only He could create in doctors and surgeons... in seeing the light of Christ in the eyes of choir members when they sang Crossing Over There on All Saints Sunday, testifying to the hope and comfort that we all have in a God who has destroyed death for all eternity!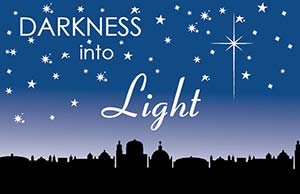 Christ, once for all, has paid the price for the darkness in our lives and has lifted us out of it into the light! That light is entrance into the presence of the Father. Holy is He! This advent we travel through the darkness with the joy of anticipation, hope and light in His promised coming 2000 years ago! And yet, even more, our great hope is that He is coming again to take us unto Himself! Our hope is translated into joy, for He has loved us with an everlasting love and draws us to Himself each day!
As we journey, look back and see... remember the great things the Mighty One has done for you! Sing with Mary, "My soul magnifies the Lord, and my spirit rejoices in God my Savior, for He has looked with favor on the lowliness of His servant." Then bow before Him, declaring, "Holy is Your Name!"