"For everything there is a season, and a time for every matter under heaven" Eccl. 3:1

In Disney's animated film Frozen, one of the characters named Olaf sings about his dreams of experiencing summer for the very first time. In his song, called In Summer, Olaf confesses that he doesn't have "much experience with heat" (he is, after all, a snowman...) and then adds, "But sometimes I like to close my eyes, and imagine what it'll be like when summer does come." It's a clever, catchy number (don't look it up unless you're prepared to have it stuck in your head). Olaf can't wait to "find out what happens to solid water when it gets warm!" and shares that "when life gets rough, I like to hold onto my dream/of relaxing in the summer sun, just lettin' off steam."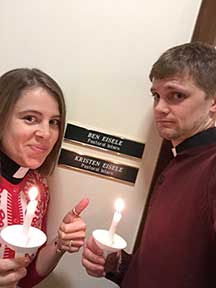 What's this got to do with anything? Aside from the obvious, (summer is on us, Frozen is pretty great, and the song is super-stuck in our heads) there is a tension in Olaf's dream that fits this season for us. On the one hand, it's summer! Hooray! Abundant sunshine, warmer temps, some slower pace to the schedule, and all without the threat of melting (like Olaf). These are welcome changes with this new season.

On the other hand, the transition in season means another transition for us, one that is bittersweet. Our last day of internship is fast-approaching, even though it feels like we just got here. And so we are entering a season of packing, planning for next year, and saying goodbye. While we knew this season was coming, somehow it has still surprised us with its arrival and its challenges. We have had in our year here our own kind of "freezings" mixed with "meltings."

Our call as church leaders has been "solidified" by your affirmations. Our styles of teaching, preaching, and leading worship have been melted and frozen and melted again—formed and reformed over the year—in our experience and learning. We have witnessed the movement of the Holy Spirit here, providing a solid and firm foundation for Messiah Lutheran, while at the same time making things new in your lives, and in Prs. Peter and Kathy's visions to teach future church leaders, to feed your neighbors, and to provide for students in your neighboring schools so they can learn. In all of this, you have been a solid influence in our lives that we will carry on in our ministry, wherever that leads us—even as our hearts melt a little, knowing we must part.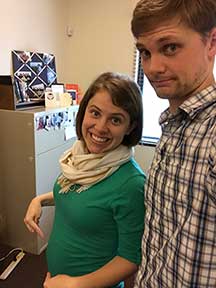 For us, holding together our excited anticipation of things to come with the sadness at departing is about as easy as a snowman getting a tan. It's strange—being so fully welcomed, invited, and made part of a community, and knowing that we've got to go. In such a "season," we find hope and comfort in the familiar words of Ecclesiastes. Life is full of seasons: joyful, sad, easy, and difficult. Some are just pure joy. Some just are not.

Through all the seasons, God is real, present and working as Creator, Redeemer, and Sustainer. God certainly has been faithful thus far in our time here at Messiah Lutheran, and we trust that God's faithfulness will continue in these next weeks as we prepare for whatever the season brings.

Thank you for all you are: to each other, to God's people in this community and beyond, to us, and to the ones who are coming after us, starting with Intern Pastor Alison. You are a blessing, Messiah: a community of God's own calling to shape and reshape God's world.

In gratitude, Interns Ben and Kristen