Messiah North Campus - Ridgefield
Messiah North campus meets for worship each Sunday at Windy Hills Winery in Ridgefield, WA, at 9:00a. (See below.)
A faith community on the move.
Messiah North is a faith community on the move, growing, and changing as the Spirit leads.
Messiah North is an experiment — believing that a church with low overhead still has a big message to share. All people need grace and forgiveness, which come from God. So each week, this community gathers and is gifted with the good news of Jesus' story and the presence he shares in a simple meal of bread and wine.
The Messiah community is committed and believes that God's beautiful story is continuing to unfold and that each person's life is part of that story. Together, the community is discovering what it means to love God and love one's neighbors.


A community of purpose.
The community that is Messiah is following three bodacious visions that we believe God has called and equipped us to do.
We are a teaching and learning community. We mentor and learn from the church's next generation of leaders and pastors each year as we host a full-time pastoral intern from Luther Seminary and college summer interns as part of the congregation's staff.
We are a conduit of meaningful connection with our community, known most notably for our One Mile Mission, where we work to ensure that all children (0-18 yrs.old) attending schools within one mile of all the congregation's worship sites have everything they need to learn. This includes running Messiah Preschool at the Hazel Dell campus.
We are a sharing community, working to extend and discover the reach and influence of God's kingdom outside the traditional walls of the church by experimenting with new ideas, taking risks, and being nimble for Jesus' sake.


A community of welcome.
As we all emerge from the pandemic, Messiah North is a community of radical welcome and wholehearted acceptance. We are LBGTQIA+ affirming. The values statement of all of Messiah's worshiping communities is:
"Messiah Lutheran. Here everyone is treated with dignity, always—a place where all means all. We value the God-given worth of all identities, all abilities, and all differences."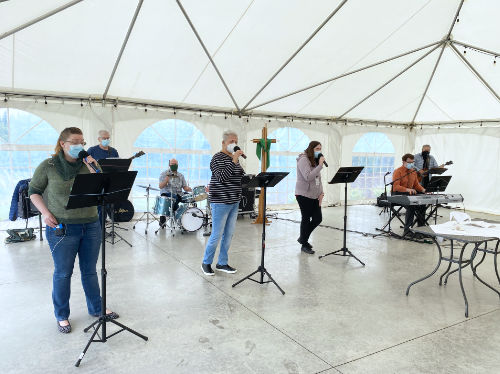 Yes, a Church at a winery. 9:00a each Sunday.
Jesus' first miracle was to turn water into wine, so should we be surprised we've landed at a winery? Messiah North has the best landscape of any congregation in the PNW. During the summer months, Worship happens in the event tent, so you may want to bring a sweater if the morning is brisk. During the winter, worship is indoors in Windy Hill Winery's grand hall.
We are a multigenerational congregation and provide staffed activity and crafts tables for little people in the worship space. The sounds of children in worship are welcome and quite natural to us. They remind us that Jesus welcomed little ones with open arms.
Messiah North Campus
Windy Hills Winery
1346 S 38th Ct.
Ridgefield, WA 98642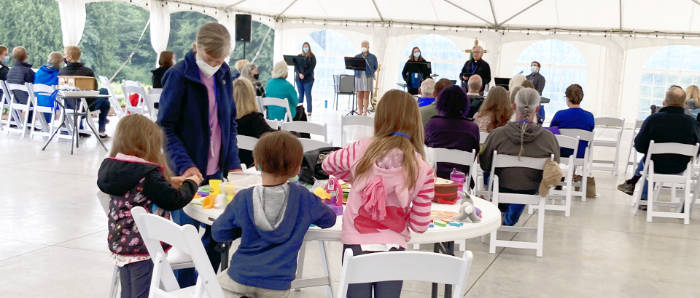 A community invested in North Clark County.
Messiah North is a significant financial supporter of the Ridgefield Family Resource Center. The congregation also supports Ridgefield's Neighbors Helping Neighbors Food Bank and the Lewis River Mobile Food Bank. The combined total of Messiah's investment in these three organizations is over $330,000 in the last ten years.


Learn more.
We'd love to connect with you. The first voice and woman of all things north is This email address is being protected from spambots. You need JavaScript enabled to view it.. She'll respond quickly and always without any pressure or propaganda. That's how we roll.